<Renovation construction work>Office building in Yokohama city prefecture
We thank you very much for browsing『Kikuchi Souken Co.,Ltd. 』homepage this time.
Our company office is at Ikebukuro, Toshima ward, Tokyo, and in all over Kanto district, we are an『Interior decorative construction contractor(company)』taking charge of full set of『Interior decorative construction』・『Original state recovery and restoration work』for you.
This time, we are explaining a renovation work site at office building located in Yokohama city, Kanagawa prefecture.
Construction work kind: Renovation work
Construction work site location: 30th floor, Yokohama Daiya building, Kanagawa ward, Yokohama city, Kanagawa prefecture
Construction work details: In 30th floor of Yokohama Diya building(Yokohama city, Kanagawa prefecture), upon making Showroom of「Digital Energy Innovation Laboratory」(DEI Lab.), we executed LGS(=light gauge steel) work, board work and so on.
Our construction work places are ceiling and wall. So, we assembled and mounted LGS. Upon making wall, we made curving with LGS, by using FG board which can be bent processing.
Then, the following is a picture before construction work.
We will execute the finger pointing place at the ceiling.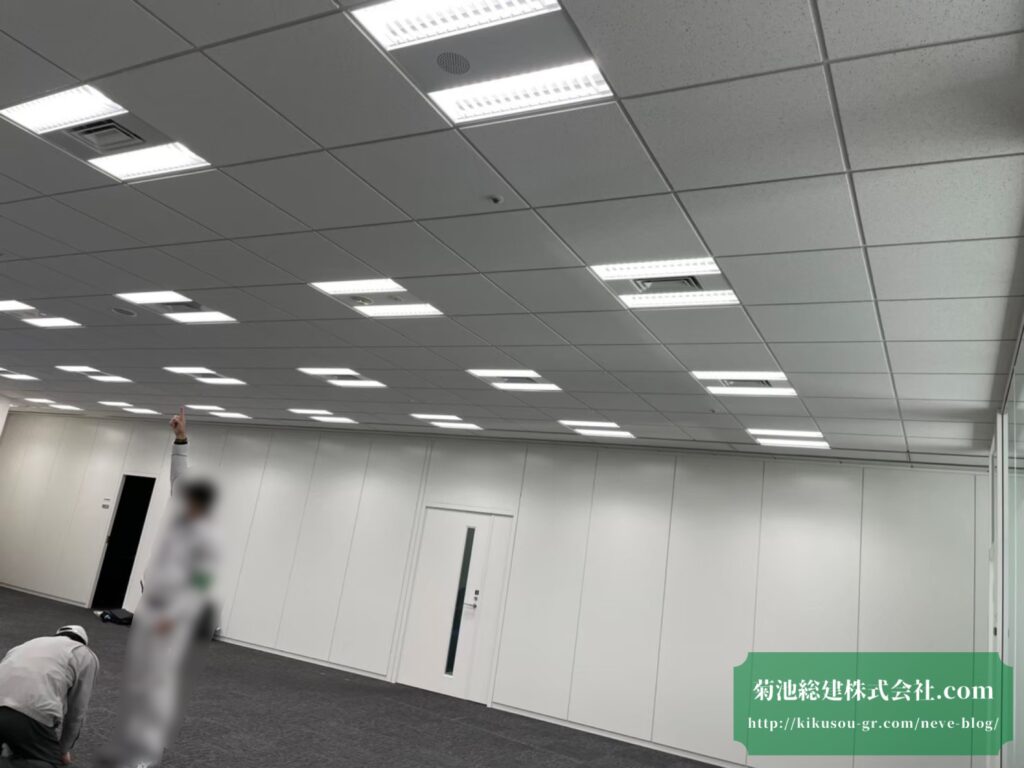 It is partly stripped situation of construction work place at the existing system ceiling.
From here, we will execute LGS work.
In the first place, the following is a construction work picture from the ceiling.
In order to make round lighting ceiling with having height differences, it is the first level construction work picture firstly.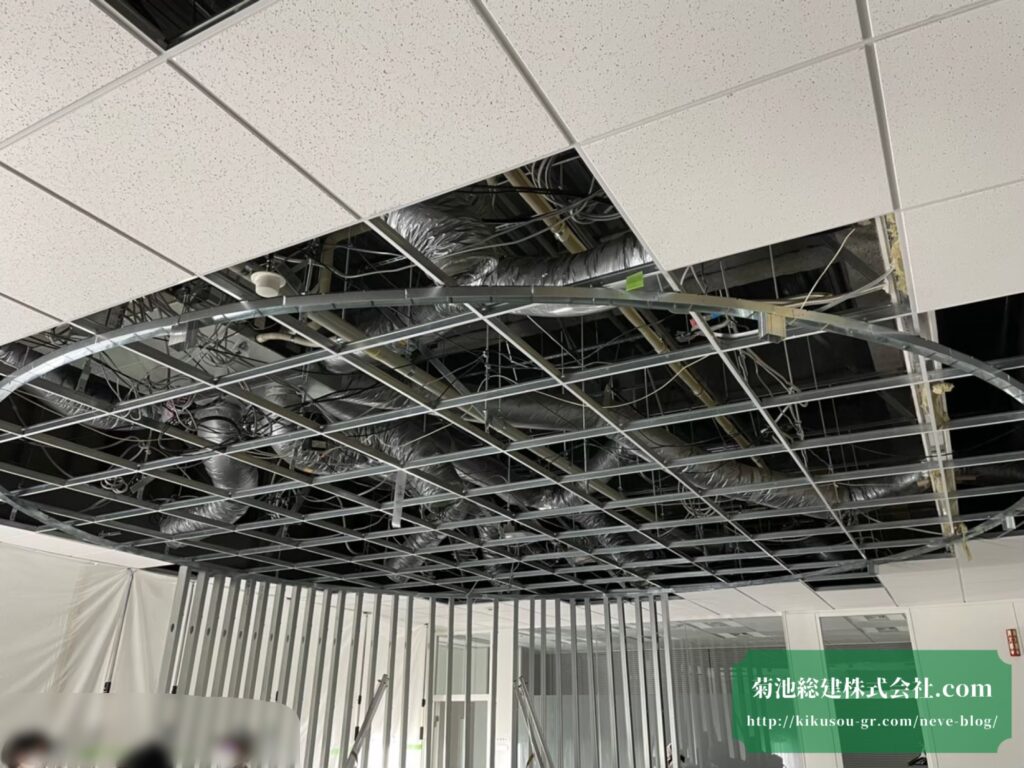 Above picture is the first level using hanging bolt.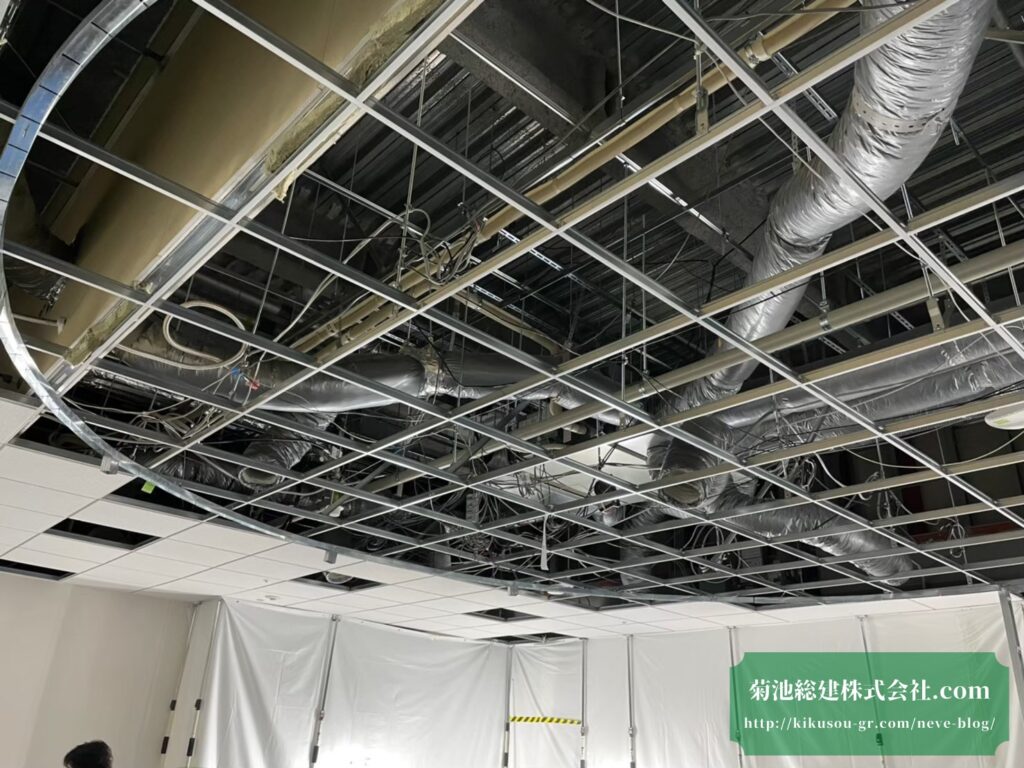 Above is the second level construction work picture.
The second level LGS work is being executed gradually hung by hanging bolt.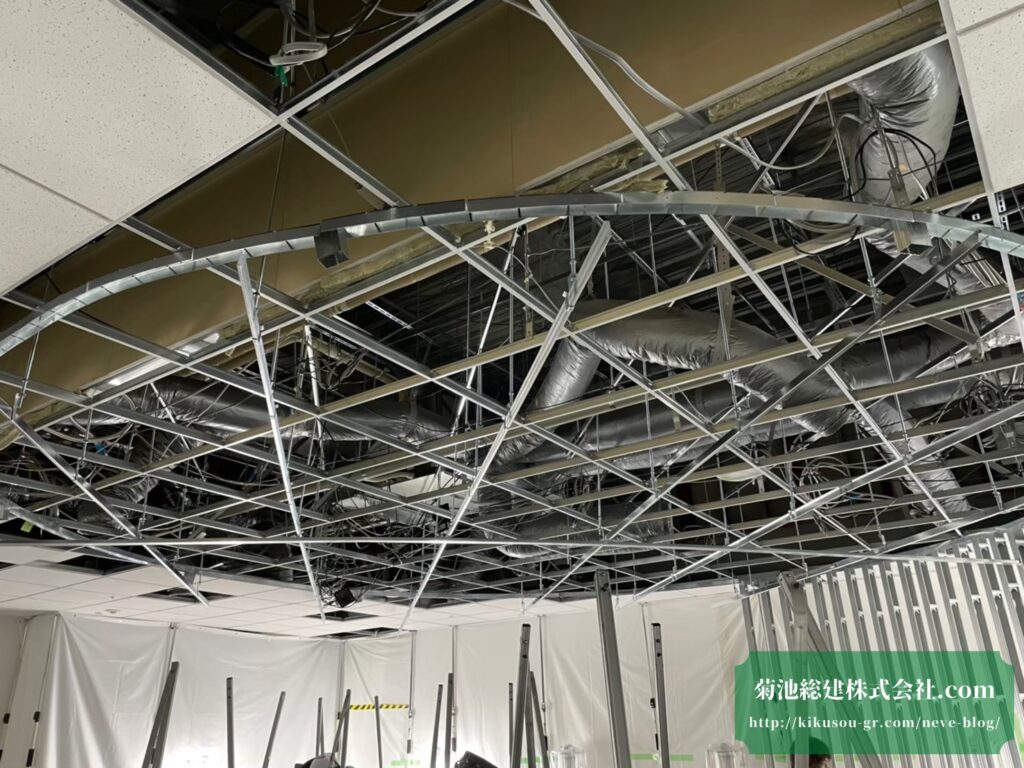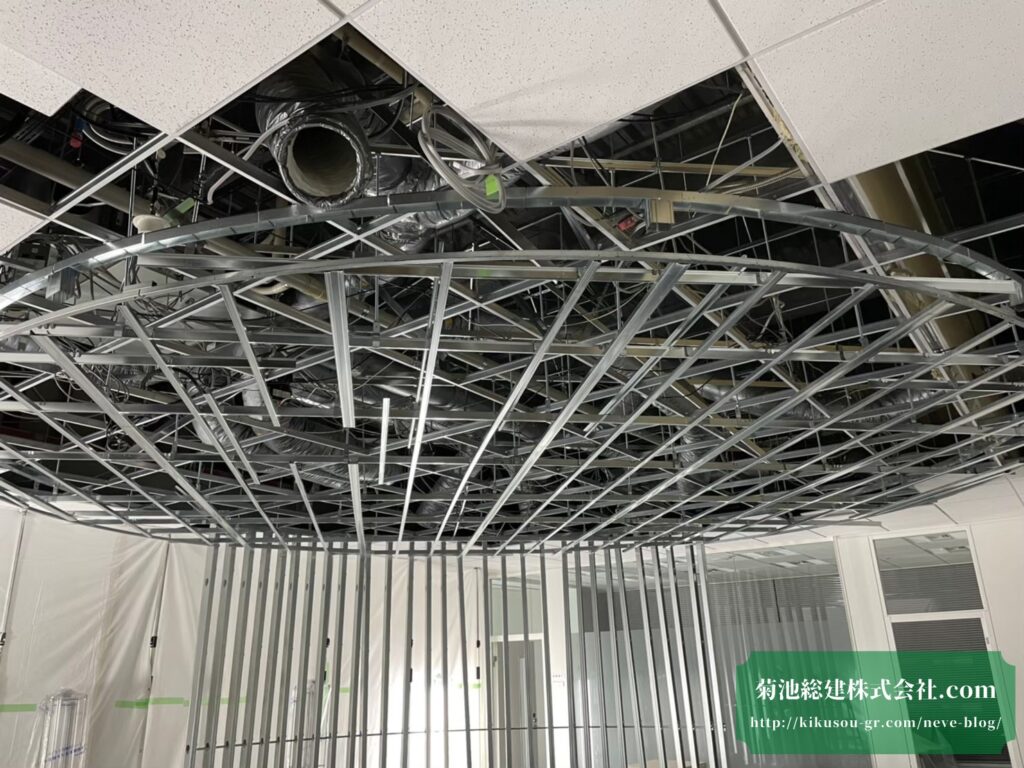 We finished LGS work of having height difference round lighting ceiling.
Then, it is a construction work picture of the wall.
Our construction work of the wall is somewhat e special too.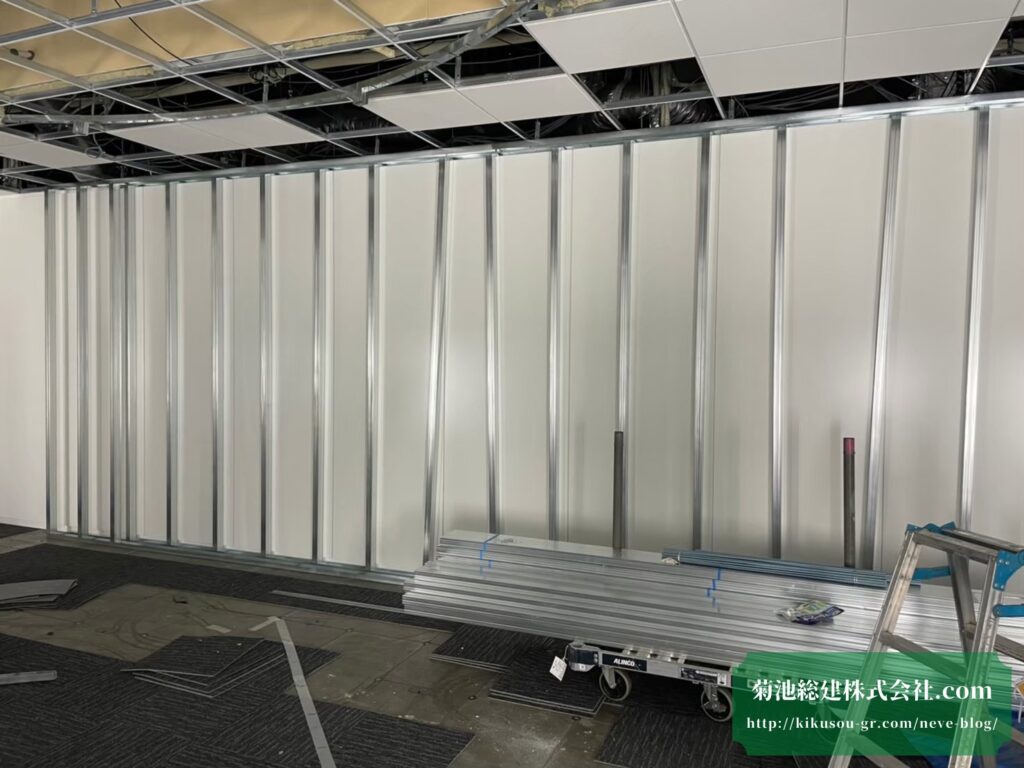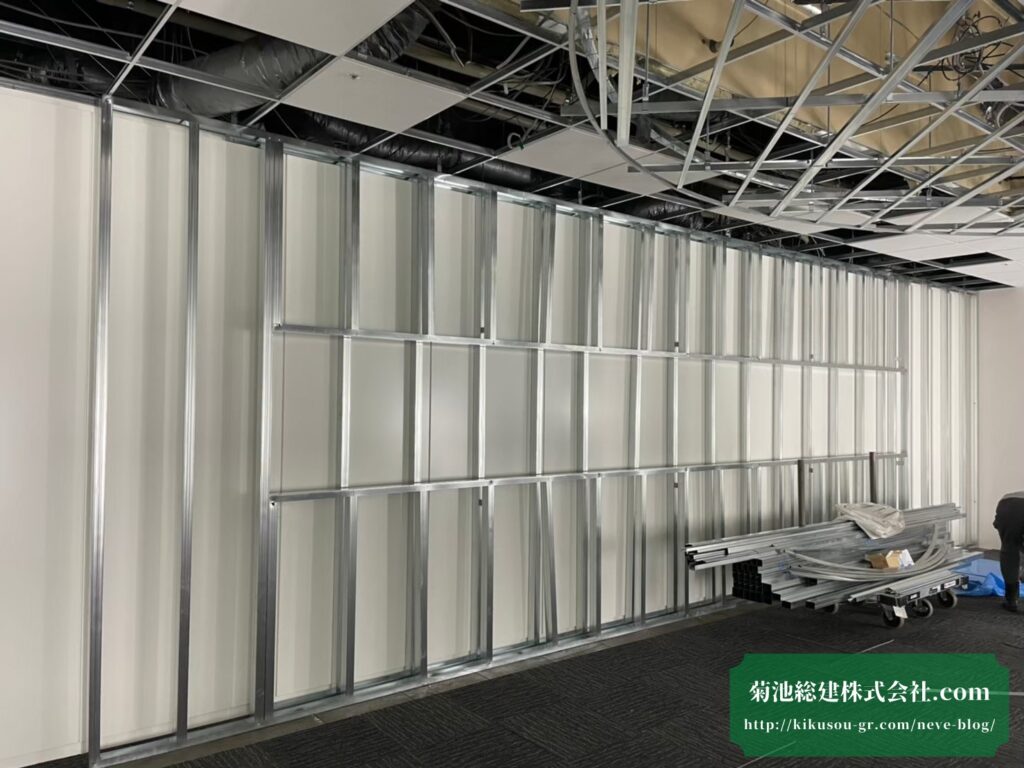 It is partition wall where FG board work is executed.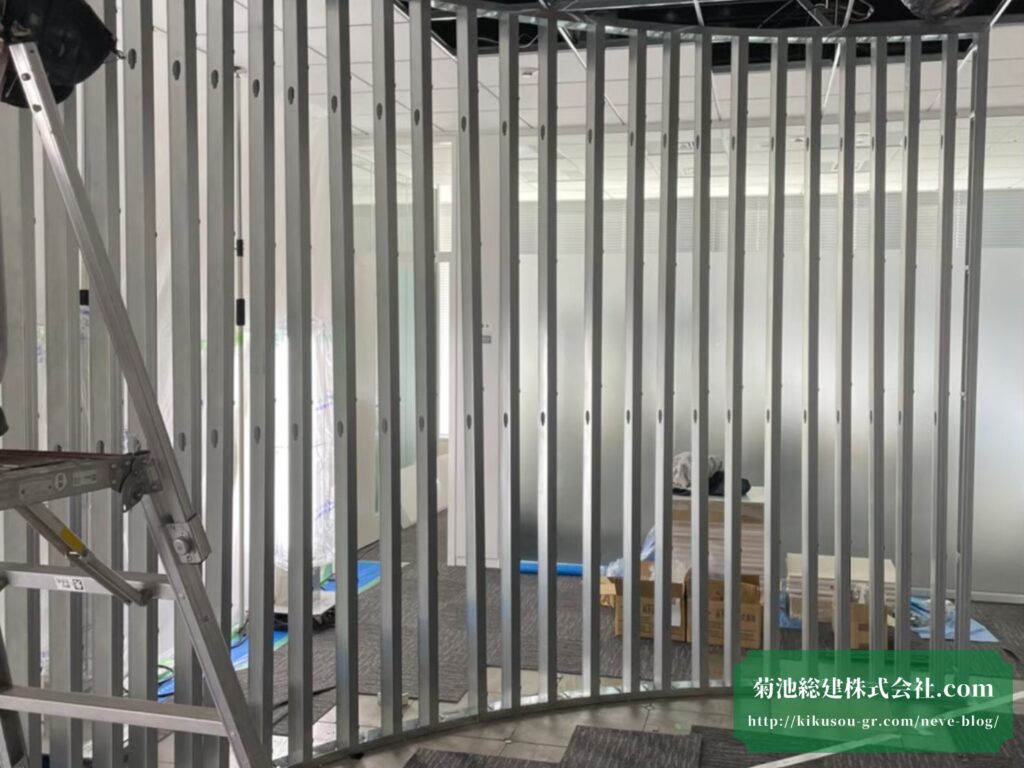 It is a picture of whole LGS construction work executed.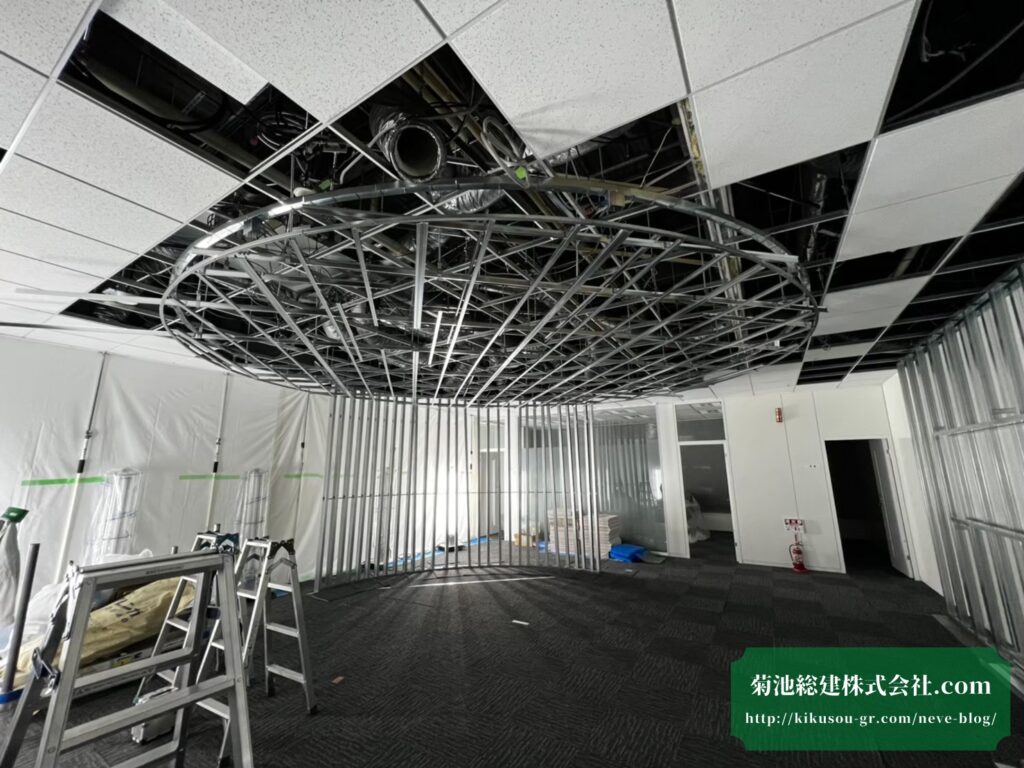 Next, it is a picture of board finishing construction work.
We go on sticking processed board in accordance with round shape at the second level round shape of lighting ceiling.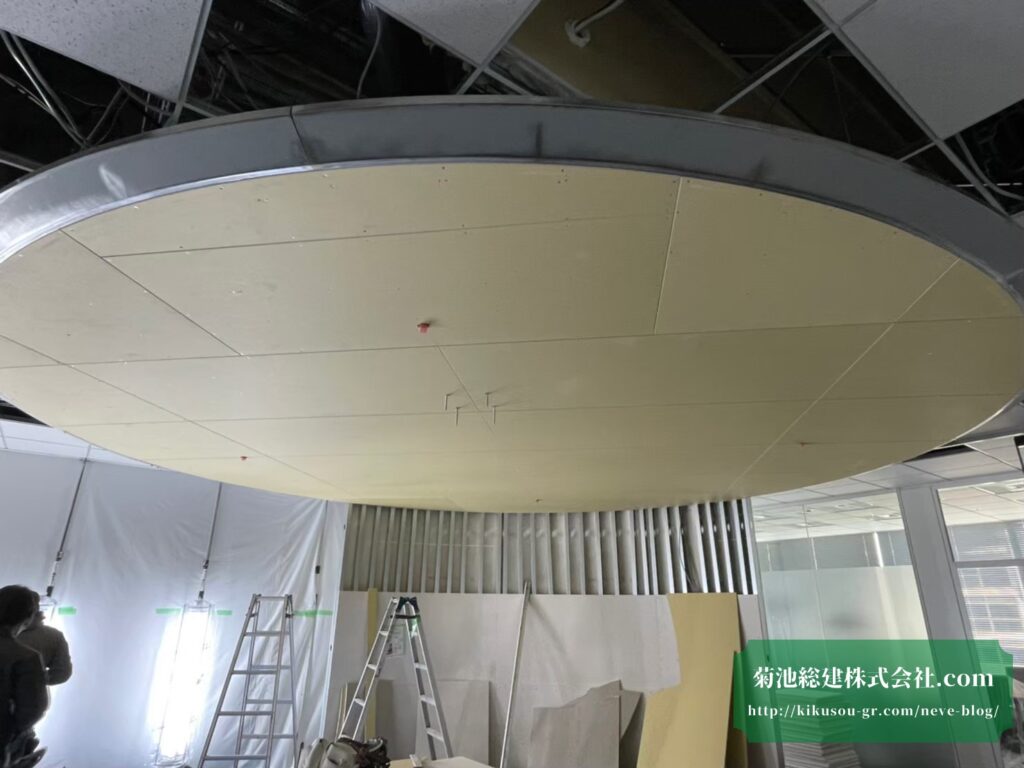 We go on processing FG board also in accordance with curving, and sticking it.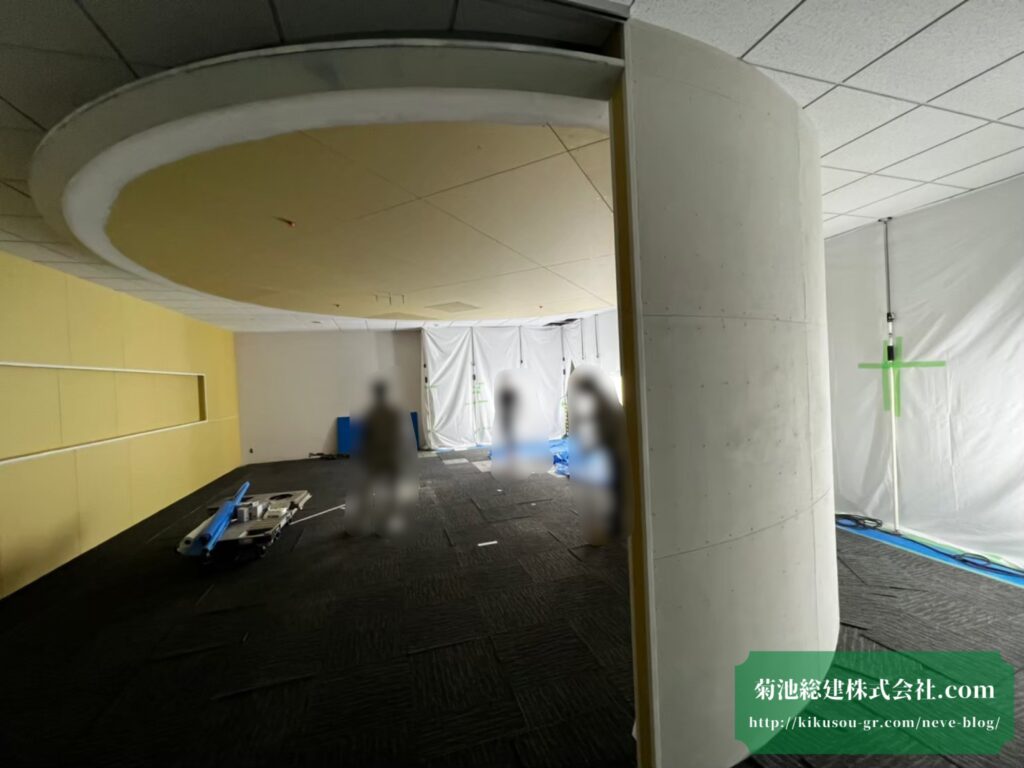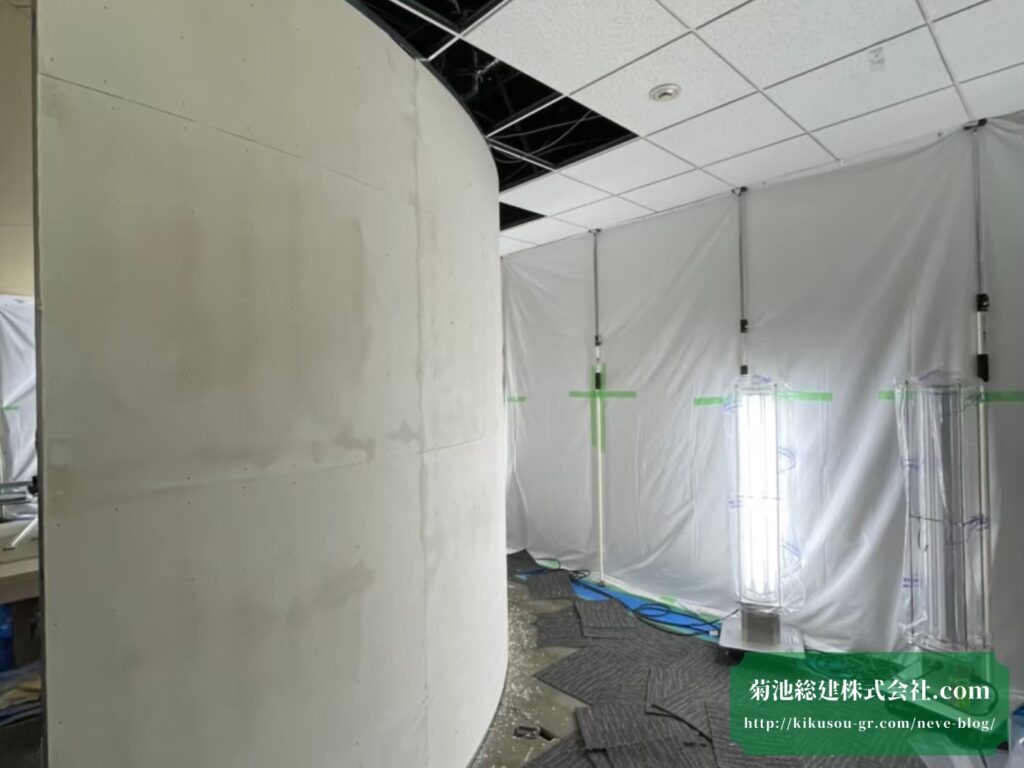 The curving has been made clearly.
It is a picture of executed board work at all the places.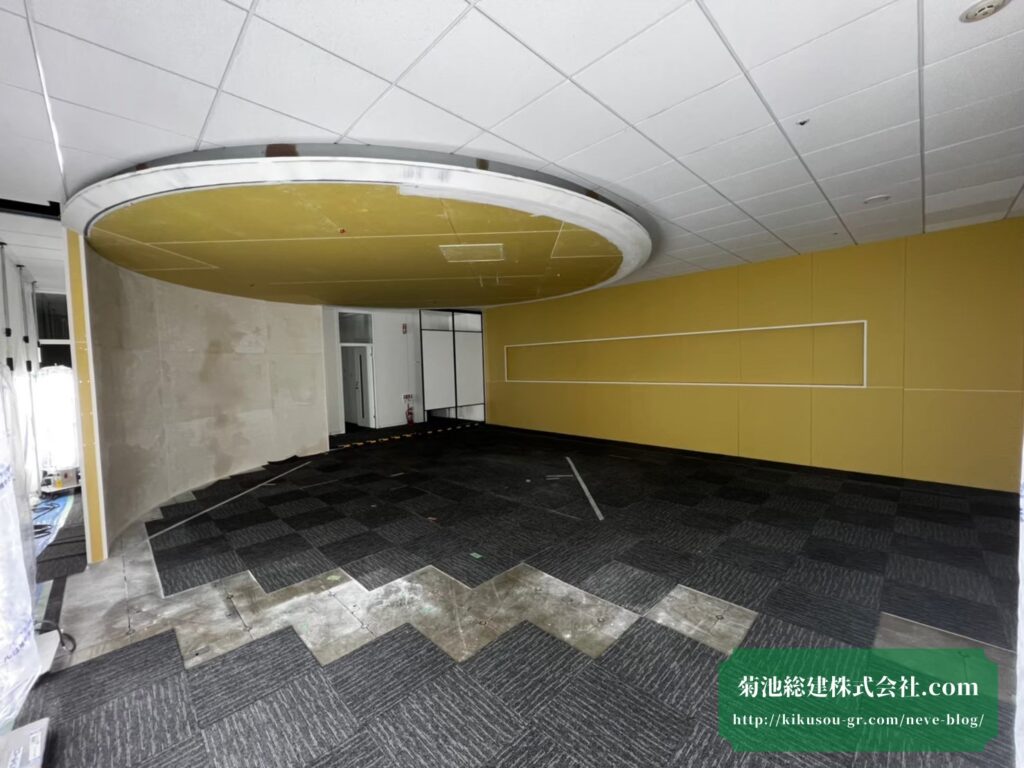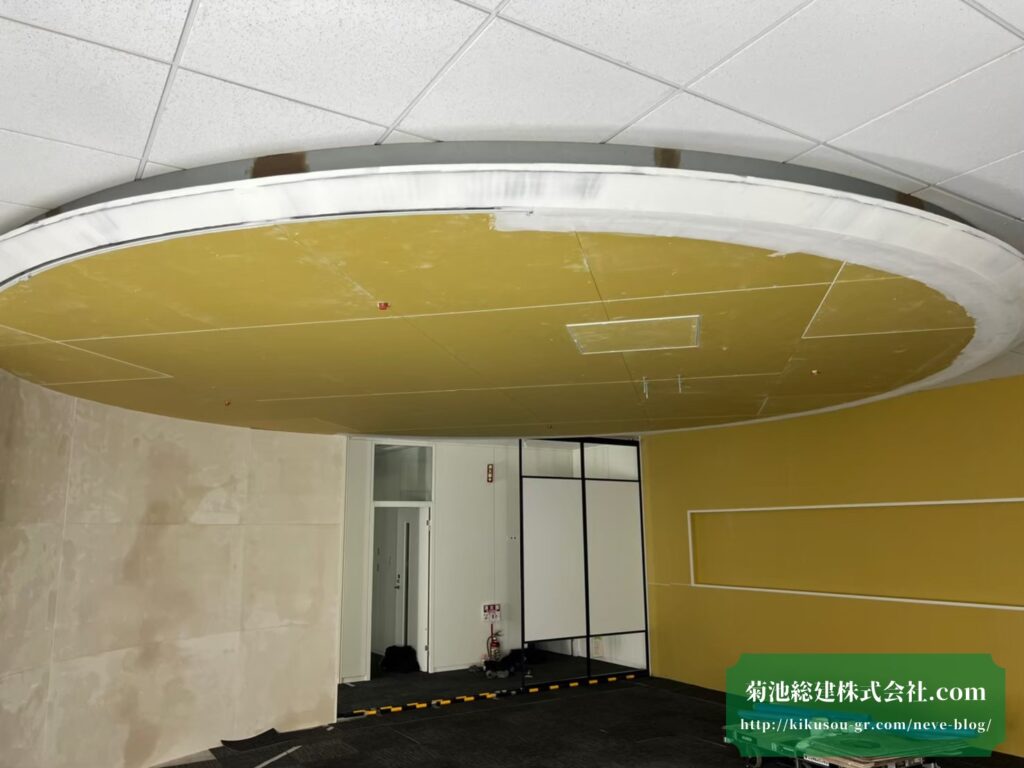 After this, we will execute so-called decorative cloth work in accordance with the design or so.
https://www.mitsubishielectric.co.jp/ictpowersystem/news/newsDetail20220331.html
At the completed FG board sticking place, screen and so on have been installed, so the site has become stylish and most advanced finishing situation.
Above are the contents of our construction work this time.
If you would like to request this kind of special construction work, please be sure to talk with us light heartedly.
Finally,
As construction cost greatly differs according to each contractor, we recommend you to obtain【plural competitive quotations】.
In the first place, please compare each quotation, and we would like to request you to place your order to us hopefully.
From price quotation up to construction work completion, our company is directly managing and doing construction work by ourselves.
We are supplying「reasonable construction work as much as possible, and high quality, better work service」to our customers.
On《office・shop or store(tenant)》renewal work・redecoration work
recovery work(reform work)・original state recovery and restoration work, from partly repair work to full set of interior decorative construction,
we are receiving and executing your order.
Kindly give us your inquiry light heartedly in the first place.
We are waiting for your contact.
We are also sometimes updating SNS social media.
We are also waiting for your follow・it is good♡ by all means.
~~~~~~~~~~~~~~~~~~IKEBUKURO~~~~~~~~~~~~~~~~~~~
★If you look for an interior decorative construction contractor
at Ikebukuro, it is Kikuchi Souken Co., Ltd.★
★If you also look for original state recovery an restoration construction in Tokyo,
it is Kikuchi Souken Co.,Ltd.★
Address: 〒171-0014
4th floor, Musashiya No.3 Building,
62-10, 2-chome, Ikebukuro, Toshima ward, Tokyo
Phone: 03-5985-4252
~~~~~~~INTERIOR DECORATIVE CONSTRUCTION CONTRACTOR~~~~~~~