Construction work|Hat joint construction work 
Hello, everyone! This is Kikuchi Souken Company Limited website.
Ikebukuro as midpoint, and in all over Kanto district, our company is taking charge of「Interior decorative construction work・recovery and restoration work」for you.
Today, we are explaining hat joint construction work.
Gap between boards is called joint.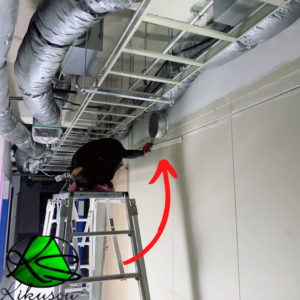 The material to insert in the gap is hat joiner.
As the cross section is like silk hat, it is called hat joiner.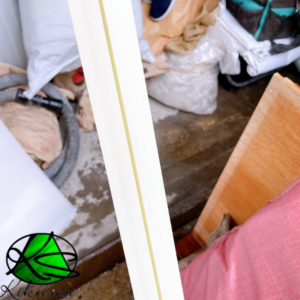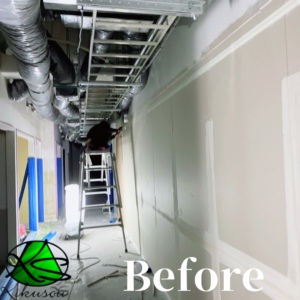 When executing the construction work, we go on embedding hat joiner by gluing the back side.
In order not to leave too much glue, we carefully go on doing the work operation.
If leaving too much glue, it will make level difference against other joint, which is not good.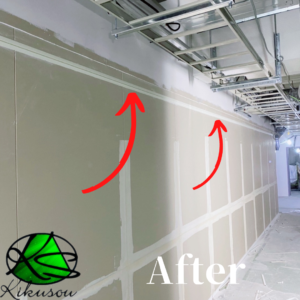 We neatly glued, and embedded in it.
As the construction work this time is painting at the upper part, and sticking so-called decorative cloth at the lower part, we duly used a different material.
That is all for our explanation this time.
Please also visit our website next time.
Finally.
From price quotation up to construction work completion, our company is directly managing and doing construction work by ourselves, so our aim is supplying 「reasonable construction work as much as possible, and high quality, better work service」to our customers.
Please do not hesitate to compare our quotation with other plural possible contractors', as we welcome your comparing competitive quotations.
「Which construction work contractor should I request? How much is approximate construction work cost? and so on.」
《On office・shop or store(tenant) 》renewal work・redecoration work・repair work(reform work)・recovery and restoration work, small scale repair interior decorative work and so on, please give us your inquiry in the first place light heartedly, as we are waiting for your contact to us.
https://kikusou-gr.com/wp/contact/
Three colored clicking marks: Instagram, Twitter, Facebook.
Kindly click following is nice♡ too light heartedly.
~~~~~~~~~~~~~~~~~~~~IKEBUKURO~~~~~~~~~~~~~~~~~~~~
★If you look for interior decorative work contractor at Ikebukuro,it is Kikuti Soken Co.Ltd★
★If you also look for recovery and restoration work in Tokyo, it is Kikuchi Souken Co. Ltd★
Phone: 03-5985-4252
~~~~~~~~~~~Interior decorative construction work contractor~~~~~~~~~~~