Hello!We are Kikuchi Souken Company Limited.
We are doing construction of「Interior finishing work」「Interior restoration work」 at Ikebukuro area at the midpoint, and all over Kanto, for you.
Then, we would like to introduce our new signboard to you today.
We have installed new signboard at our company's No.1 service office(=new office).
Adopting our logo mark, also symbol mark, with two colors, green and pink, the signboard has become white wall outside and entrance wall paper(=Sycamore) looking well attractive stylish.
The material is glass acrylic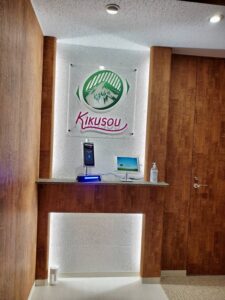 Our corporate colors are green and pink, two colors.
Green:Mt.Fuji is imaged for our company. Under the drawing of Mt.Fuji, 「KIKUCHI」-English letters are drawn like a leaf, aren't they?
Pink: ①After our interior construction finishing work, we suggest the image of our customers can spend comfortably, feeling happy.
②Consideration, young image(We are growing further more continuously. )
③Imaging relaxed.
Incidentally, our top managing director's favorite color is said to be pink (Unexpectedly surprising!)
In addition, we have also changed the reception guide as a touch panel device, and we have moved the plant formerly placed at the entrance to the meeting room.
As there is greenery at the meeting room, it is soothing.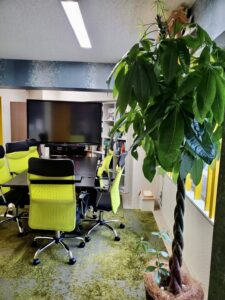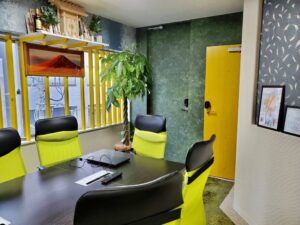 With above pictures, we have explained our new signboard.
Then, that is all for today.
We are waiting for your follow up of our Instagram, Twitter, and Facebook.
From price offer to construction work finishing, our company is directly managing all by ourselves, by omitting agent margin in-between, so we are supplying more reasonable at price, and high quality and better products to you.
Of course, we welcome your comparing our offer price with others very much.
「Which construction company should I ask to work? How much is the construction cost? and so on.」
Besides above also, we are waiting for your questions.
『Office, shop and store, warehouse moving』, interior restoration work, reform work(interior construction work) and so on.
Please feel free to give us your inquiry in the first place.
~~~~~~~~~~~~~~~~~~~~~Ikebukuro~~~~~~~~~~~~~~~~~~~~~
★If you look for interior finishing company, ask for Kikuchi Souken Company Limited.★
★If you also look for office restoration work in Tokyo, ask Kikuchi Souken Company Ltd.★
Our address: 〒171-0014 4th floor, Musashiya No.3 Building, 62-10, 2-chome, Ikebukuro, Toshima, Tokyo
Phone: 03-5985-4252
~~~~~~~~~~~~~~~~INTERIOR FINISHING COMPANY~~~~~~~~~~~~~~~~