Hello!We are Kikuchi Souken Company Limited.
We are doing construction of「Interior finishing work」「Interior restoration work」and similar works mainly at Ikebukuro area, and in all over Kanto area for you.
Today, we did our partition and similar construction work at a certain room.
We can make partition at any kind of room.
If you have a request or the like to us, please give us inquiry.
According to the design drawing as usual, we are going to prepare the partition by covering blue sheet.
We go on mounting LGS(=light gauge steel). We are also going on finishing by glueing the board, and also glueing cloth and the like.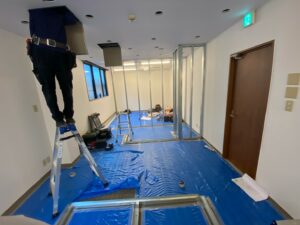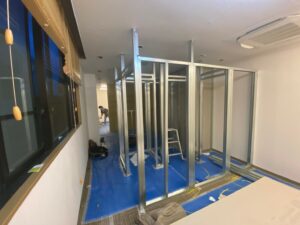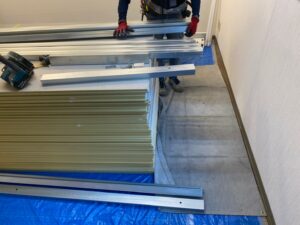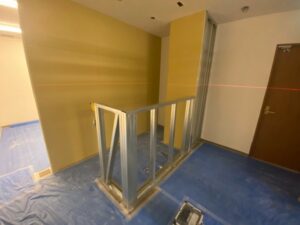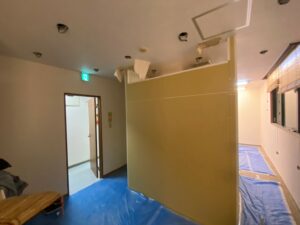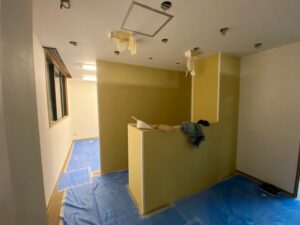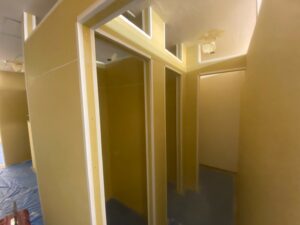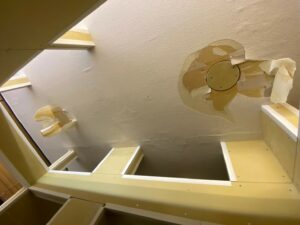 As for ceiling, we open the gap, and go on mounting there.
The finished situation is a kind of labyrinth, isn't it?
That is all for today.
We are waiting for your follow up of our Instagram, Twitter, and Facebook.
From price offer to construction finishing, our company is directly managing all by ourselves, so we are supplying more reasonable at price, and high quality and better products to you.
Of course, we do not mind at all if you compare our offer price with others, as we welcome it.
「Which construction company should I ask to work? How much is the construction work cost? and so on.」
Besides above also, we are waiting for your questions.
『Office/shop and store/warehouse moving』, interior restoration work, reform work(interior finishing work) and so on.
Please feel free to give us your inquiry, at the first place.
~~~~~~Ikebukuro~~~~~~
★If you look for interior finishing company in Ikebukuro, ask for Kikuchi Souken Co. Ltd.★
★If you also look for office restoration work in Tokyo, ask for Kikuchi Souken Co.Ltd.★
Our address: 〒171-0014 4th floor, Musashiya No.3 Building, 62-10, 2-chome, Ikebukuro, Toshima, Tokyo
Phone: 03-5985-4252
~~~~~INTERIOR FINISHING COMPANY~~~~~