Hello, everyone! This is Kikuchi Souken Company Limited website.
Our company office is based at Ikebukuro, Toshima ward, Tokyo, and in all over Kanto district, we are taking charge of《 Interior decorative construction work 》generally and《 Recovery and restoration construction work 》for you.
We wrote and uploaded 『 Interior decorative construction work Technology series 』newly established starting from last time.
This time, it is our second article.
https://kikusou-gr.com/wp/yougoseris1-202303/
There may be existing this kind of information already in the internet.
However, our company coordinate by ourselves here, and we are introducing our construction work site pictures which can be prepared if any.
We are going to write and upload articles which you can finish reading relative easily.
So, we are glad if you will read them light heartedly.
What is putty treatment? Why it is necessary to do it?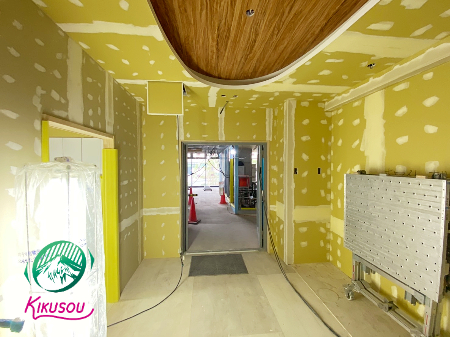 Putty treatment in interior decorative construction work, is said to be a work operation of going on to putty up paste form overlaying or cladding material=putty, and flatten 凹凸, in order to get rid of surface 凹凸, after sticking base material such as gypsum board or so.
There are various sizes of board materials. In the case of gypsum board, the standard size is length × width as 910mm×1820mm.
Edge of this board size is a little angular. Even if sticked tightly, the joint part is becoming rather 凹凸.
(Occurring 凹凸 situation is called「 occurring unflat」.)
At the first coating material, we go on doing screw fixing (fixing board use screw by electric driver) basically. In order to prevent from occurring 凹凸 here too, we also treat to embed putty from the board material.
But, only with that treatment, we still cannot say that the surface is flat. If we do not go on making all of the sticked boards into a sheet of board, after painting and executing construction work of so-called decorative cloth (wall  paper), it may lead to occurring wrinkle or floating. Chances are that it may lead to happen peeling of so-called decorative cloth or crack thereafter.
Therefore, a work process of formulating paste form or powder putty agent, and applying wall, and flattening the surface is becoming indispensable.
Putty treatment construction work method
Puttying is done twice, or three times dividedly.
In the case of twice, they are called ①under putty, ②finish putty(on putty).
In the case of three times, they are called under putty, mid under putty, on putty, or so forth.
By using flat wide stainless spatula called「 putty spatula」, we go on applying putty agent on the board which was prepared for putty board.
At the joint part, we stick a kind of tape called joint tape tightly so as not to be peeled off.
Then, we go on applying under putty on that. (In the case of pasteless type, after applying putty, we go on sticking tape.)
We apply finish putty (on putty) as if covering tape. After drying it, we rub with sand paper, and flatten it, then wipe off occurred powder.
At the outer edge part, we attach corner reinforcing tape or called corner guard, not joint tape, then duly execute construction work in the same manner.
We go on puttying at the screw fixing part too, filing similarly and flattening it. When filing, in order not to hurt the board material, we go on finishing politely and speedily.
In any event, operation work of making sticked first coating materials into as if a sheet of flat board is putty work operation.
As it will affect finished situation of painting and so-called decorative cloth very much, although it is not visible after construction work, we can say that it is a very important work process.
Construction work site example at our company
We are briefly explaining construction work site example at our company as follows.
As it is the work site of introducing『 laminated plastic sheet 』in our terminology series last time too.
We are briefly explaining construction work situation of executing putty at the board material.
Before executing construction work, and on the way
After construction work
Finally
From price quotation up to construction work completion, our company is directly managing and doing construction work by ourselves, so our aim is supplying 「reasonable construction work as much as possible, and high quality, better work service」to our customers.
Please do not hesitate to compare our quotation with other plural possible contractors, as we welcome your comparing competitive quotations.
「How much is approximate construction work price? How to execute construction work of this part?」and so on. We welcome your relative counselling・inquiry to us light heartedly!
On office renewal・shop or store redecoration・recovery and restoration work・reform work(interior decorative work) and so on, please give us your inquiry in the first place light heartedly, as we are waiting for your contact to us.
https://kikusou-gr.com/wp/contact/
Followings are SNS links which our company is managing.
Three colored clicking marks: Instagram, Twitter, Facebook.
We are waiting for your clicking, follow・nice!
~~~~~~~~~~~~~~~~~~~~~IKEBUKURO~~~~~~~~~~~~~~~~~~~~~
★Interior decorative construction work contractor at Ikebukuro★
★Recovery and restoration work・full set of interior decorative work・office relocation★
Kikuchi Souken Co., Ltd.
〒171-0014
Address:4th floor, Musashiya No.3 building, 62-10, 2-chome, Ikebukuro, Toshima ward, Tokyo
Phone: 03-5985-4252
~~~~~~~~~~~Interior decorative construction work contractor~~~~~~~~~~~