Hello, everyone! This is Kikuchi Souken Company Limited website.
Our company office is based at Ikebukuro, Toshima ward, Tokyo, and in all over Kanto district, we are taking charge of all of《Interior decorative construction work》《Recovery and restoration construction work》for you.
This time, for us as a construction work company of which we are mainly taking charge of「LGS(=light gauge steel)」・・・「board work」・・・gypsum board,
we are thinking of explaining gypsum board again, as we can say that it is definitely a work essence for us.
We are explaining it with work site pictures as much as possible.
What is gypsum board?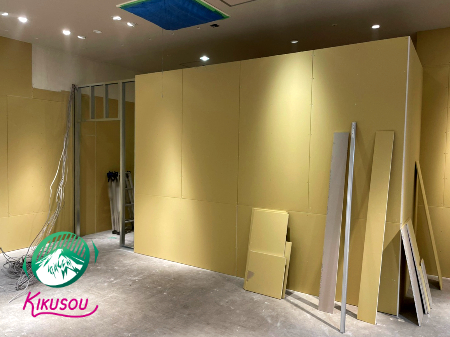 Gypsum board is, an inexpensive and well workability board material, which is finished with gypsum as core material and base paper is rolled on the surface.
As the price is low and its workability is good, frequency of using it is the highest as board material.
As it can be processed with general tool such as cutter or so, therefore its workability is nice.
※We do not touch on explaining gypsum itself this time.
Basic features of gypsum board
The reason why gypsum board is often used for interior decorative material is not only because it is inexpensive and the workability is good.
●Fire retardant property and fire resistant property are good. The most often used 12.5mm thick gypsum board is certified as incombustible material.
●Sound insulating property is high.
●Product variety is abundant. Not only price is low, there are also various function enforced products.
●Its dimensional stability is good, so it is most suitable as interior decorative material.
●It can be recycled, so it is an eco product.
●But, it is weak in water resistance.
Background of popular gypsum board as this is, besides low price, as it is an incombustible material, it can be used at almost any place, which can be listed as big feature.
There are three grades including incombustible material for fireproof performance of interior decorative material. However, we do not touch on it this time.
As for gypsum board, fireproof performance differs according to its thickness. Comparing with wooden plywood or so, it has high waterproof standard.
Dimension stability is pointed to be that material dimension changes according to temperature and humidity. As for gypsum board, its stability is high.
In addition, gypsum board is called resource circulation type product. Almost all of its products are made by recycled materials. And offcut materials and tidy demolished materials are sent to intermediate processing facility and are being recycled.
From here, we are simply explaining main variety of such gypsum boards with using work site pictures.
On our article this time, for convenience of our explanation, a lot of specific corporate names, product names are included. Other than products which we explained here, as there are products with various functions・colors and patterns too, we would like to suggest you to directly check with individual manufactures or so on products themselved.
Main variety of gypsum board.
Regular gypsum board
This product is the most popular, standard performance gypsum board.
We firstly do small screw fastening of it at bedding material assembled and mounted place, and directly stick it on concrete face by using GL bond, then after carrying out its putty treatment, painting and so-called decorative cloth finishing are executed.
Reinforced gypsum board
This product is a kind of gypsum board containing glass fiber or so at gypsum core and fireproof performance enhanced.
It is mainly used for fire-protection wall and fire-protection ceiling.
『Tiger board・Type Z』manufactured by Yoshino Gypsum Co. Ltd., Japan is a famous product. It is sometimes called as「Z board」or so at work site.
Formaldehyde absorption and decomposition board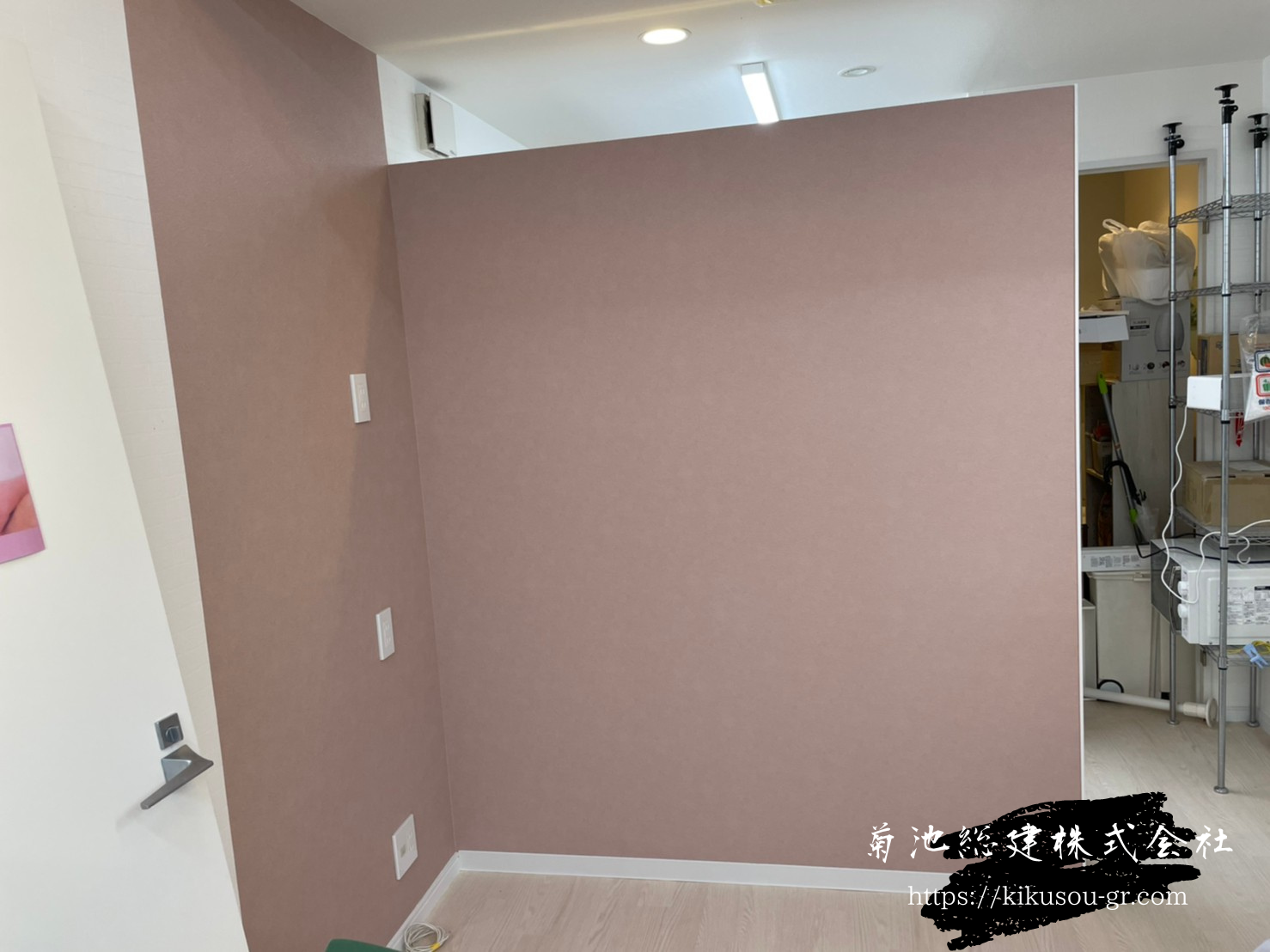 This product is a kind of gypsum board whose general gypsum board performance remains as it is, and added a function of absorbing and decomposing formaldehyde which is a cause of sick house syndrome.
※Sick House Syndrome is, a symptom occurring from chemical substance of interior decorative materials, paint or adhesive which may result dizziness or breathing trouble.
『Tiger high clean board』manufactured by Yoshino Gypsum Co. Ltd., Japan is a famous product. Its base paper rolled on the board is light pink color.
As it has a quality of formaldehyde absorption and decomposition performance, it is often adopted for juvenile facility or so. Relative TV commercials were broadcasted before.
Incombustible waterproof board
This product is light green colored board. It is a kind of gypsum board whose waterproof performance is enhanced, while maintaining its incombustibility by using high performance water-resistant material.
Incombustibility and waterproof performance enhanced board
This product is dark blue colored gypsum board. It is fireproof performance and waterproof performance both enhanced type.
There is extra thick type such as maximum thickness of 25mm product or so too.
Decorated gypsum board
Decorated gypsum board is, pointed to be a gypsum board which was done finishing treatment on the surface.
As its finishing treatment was done in advance, it is possible, for example, by direct sticking work method, to stick a sheet of decorated gypsum board on bedding, and finish it.
The most typical product is, Gyptone manufactured by Yoshino Gypsum Co. Ltd., Japan.
As a feature of Gytone, limestone pattern of called 「Travertine pattern」was drawn as finishing.
Even if only using a sheet sticked (direct sticking) on bedding, it can be finished without problem, so it can realize good looking and less cost.
Here is a picture of construction work on the way, which we introduced before as reinforced gypsum board.
Peripheral par is「Tiger square tone・D Plus」which is a kind of decorated gypsum board. Sound absorbing performance is added by processing 凹凸 on the surface.
A merit of decorated gypsum board is, it can be finished without painting or doing so-called decorative cloth finishing, then finishing can be done tidily. That is, using this product will lead to shortening work period and cost diminishing.
For other points, there are several varieties of gypsum board.
Basic performances are what we explained as above.
Summary
We so far roughly explained gypsum board.
We are very happy if you should understand its basic features and the reason why it is so popular more than a little in this article.
---
●As gypsum board is inexpensive and workability is good, it is the most popular interior decorative bedding material presently.
●There are bedding material use gypsum board and decorated gypsum board. The both varieties are abundant.
●Fireproof performance and sound insulating performance of gypsum board are high.
---
Finally
From price quotation up to construction work completion, our company is directly managing and doing construction work by ourselves, so our aim is supplying 「reasonable construction work as much as possible, and high quality, better work service」to our customers.
Please compare our quotation with other plural possible contractors' without hesitation, as we welcome your competitive quotations very much.
「How much is approximate construction work cost? How to execute construction work at this part?」and so on, please give us your counselling・inquiry light heartedly.
On office renewal・shop or store redecoration・recovery and restoration construction work・ reform work(interior decorative construction work) and so on, please give us your inquiry in the first place light heartedly, as we are waiting for your contact.
SNS links which our company is managing are as follows: Instagram, Twitter, Facebook.
We are waiting for your following・I like it!
~~~~~~~~~~~~~~~~~~~~IKEBUKURO~~~~~~~~~~~~~~~~~~~~
★Interior decorative construction work contractor at Ikebukuro★
★Recovery and restoration work・full set of interior decorative work・office moving★
Kikuchi Souken Company Limited
Office address:〒171-0014
 4th floor, Musashiya No.3 building, 62-10, 2-chome, Ikebukuro, Toshima ward, Tokyo
Phone: 03-5985-4252
~~~~~~~~~~Interior decorative construction work contractor~~~~~~~~~~