《Construction work example》Partition work of interior decorative construction work prior to opening of new tenant at Sagamihara city, Kanagawa prefecture(Remedial work)
Hello, everyone! This is Kikuchi Souken Company Limited website.
Our company office is based at Ikebukuro, Toshima ward, Tokyo, and in all over Kanto district, we are an interior decorative work contractor executing full set of《Interior decorative construction work》・《Recovery and restoration construction work》for you.
Construction work example this time is a partition work and ceiling remedial work at an amusement facility tenant of shopping mall prior to its new opening.
We also execute construction of tentatively constructed partition work together this time.
Tentatively constructed partition work generally is, a simple wall used for partitioning divisions to execute recovery and repair work・renovative decorative work and so on in the room.
Even if you just say tentatively constructed partition, required size and shape are various according to each work site situation.
We use gypsum board this time, however, metal panel and various materials are used for tentatively constructed partition.
T

hen, the following is work details this time.
Construction work kind: new decorative work (together with partition wall work and ceiling mending and repair work)
Construction work period: about a week
Construction work site: a tenant at the large shopping center at Sagami-Ohno, Minami ward, Sagamihara city, Kanagawa prefecture
Construction work details:
We execute bedding construction work at the place of newly making wall(partition) by LGS (=light gauge steel), and enforce open hole where to embed fixture.
As we were requested to execute ranma(Japanese style fanlight fixture around ceiling) partly, we do that.
We remend and repair existing LGS and wall, and after that, we newly stick gypsum board.
At the existing wall surface, after executing PB (plaster board) mending and repair, we execute additional sticking.
At the existing downlight and open hole part where inspection hole was removed on the wall, we embed (remend and repair) gypsum board.
At the external corner, we execute reinforcing work operation, we pass the work site to the following contractor.
We also execute demolition work of the tentative constructed partition and recovery and restoration work newly on another day.
Following is a picture at the time of our construction work.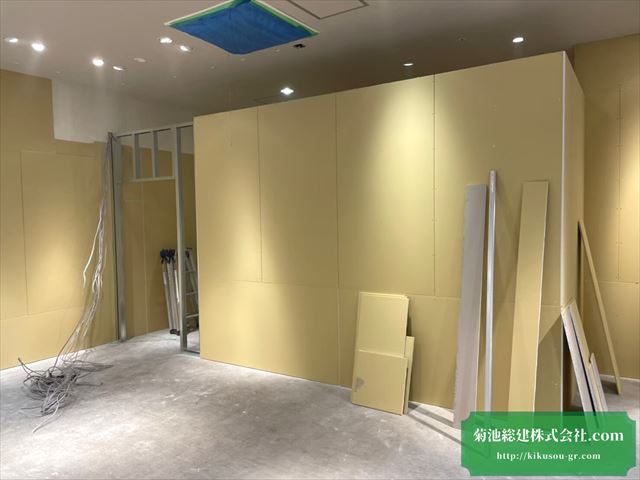 In the first place, it is a construction work at the place here.
After executing LGS construction work, we reinforce the fixture part. After opening ranma at the fanlight, we stick gypsum board on it.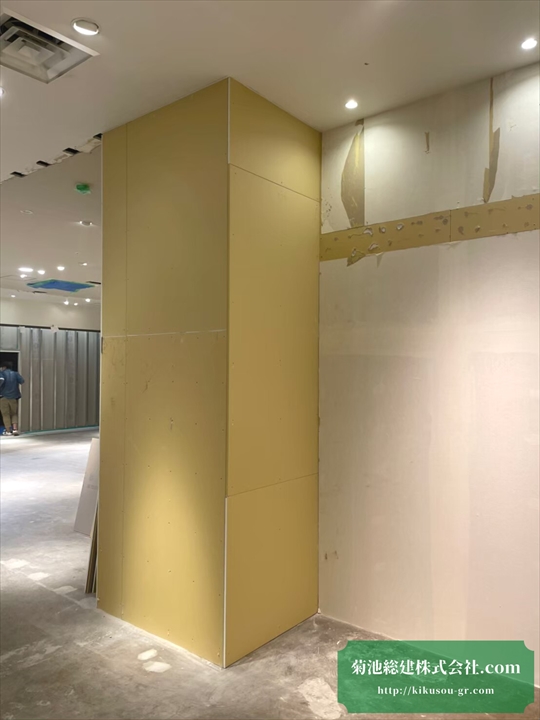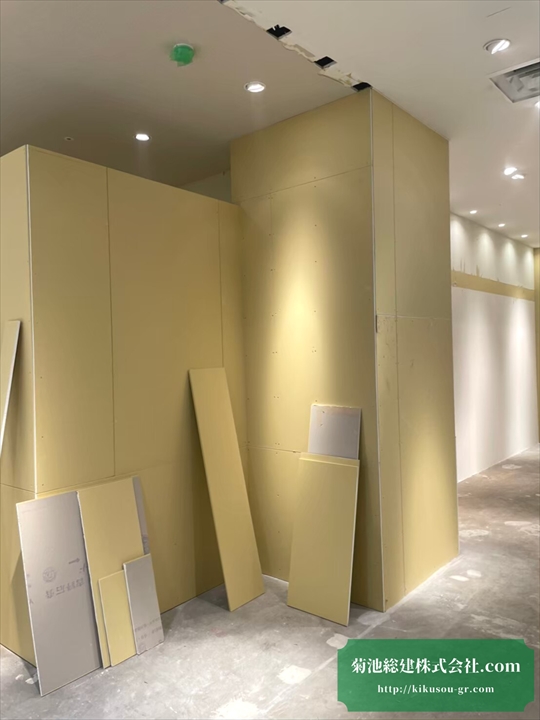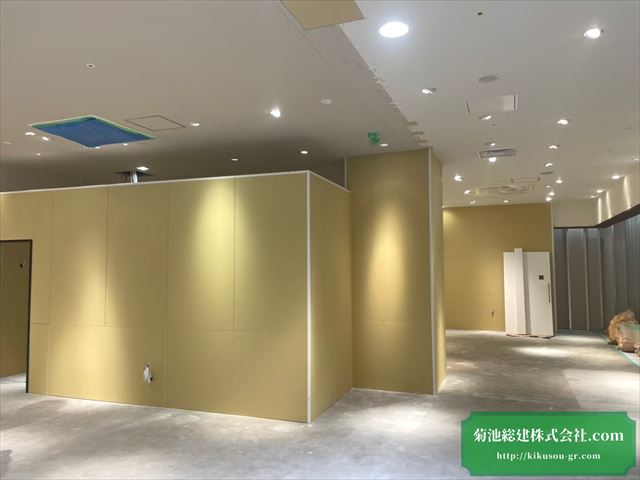 We also reinforce at the external corner.
We embed(mend and repair) gypsum board where inspection hole was removed at the open hole part.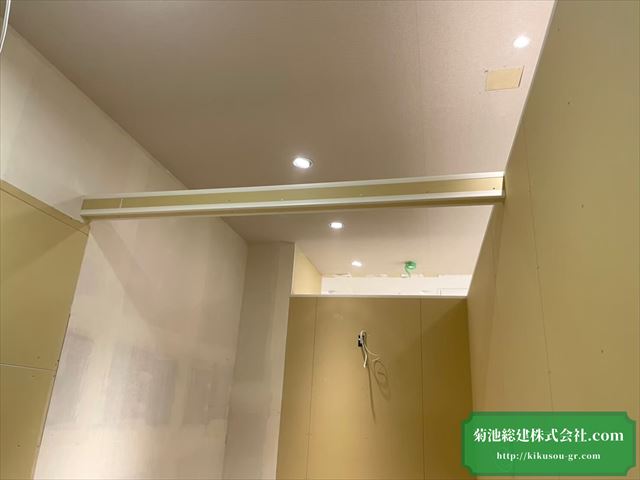 Picture of reinforcing open hole.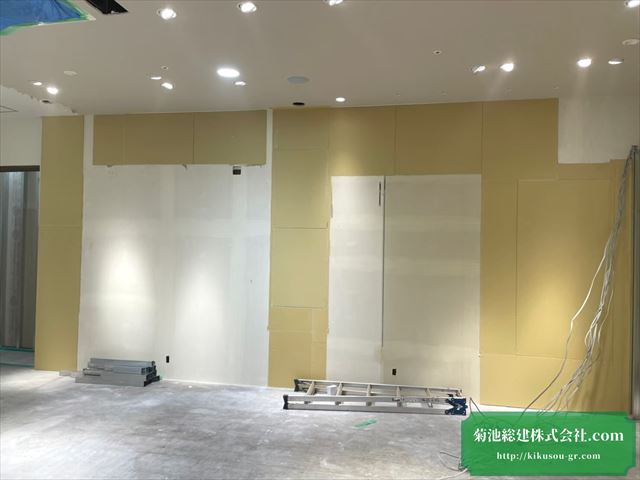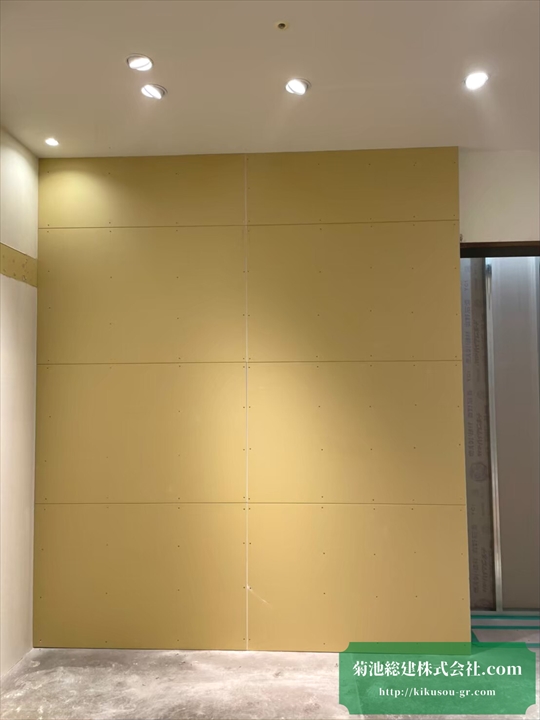 Above are the site pictures when executing construction work this time.
S

ummary
We executed construction of partition work prior to the new tenant opening.
We also executed mending and repair work of wall・ceiling.
How about considering to request construction work by making use of the existing places by all means?
Please talk with us any matter on f LGS work and board work.
F

inally,
As construction cost greatly differs according to each contractor, we recommend you to obtain【plural competitive quotations】.
In the first place, please compare each quotation, and we would like to request you to place your order to us hopefully.
From price quotation up to construction work completion, our company is directly managing and doing construction work by ourselves.
We are supplying「reasonable construction work as much as possible, and high quality, better work service」to our customers.
On《office・shop or store(tenant)》renewal work・redecoration work
recovery work(reform work)・original state recovery and restoration work, from partly repair work to full set of interior decorative construction,
we are receiving and executing your order.
Kindly give us your inquiry light heartedly in the first place.
We are waiting for your contact.
We are also sometimes updating SNS social media.
We are also waiting for your follow・it is good♡ by all means.
~~~~~~~~~~~~~~~~~~IKEBUKURO~~~~~~~~~~~~~~~~~~~
★If you look for an interior decorative construction contractor
at Ikebukuro, it is Kikuchi Souken Co., Ltd.★
★If you also look for original state recovery an restoration construction in Tokyo,
it is Kikuchi Souken Co.,Ltd.★
Address: 〒171-0014
4th floor, Musashiya No.3 Building,
62-10, 2-chome, Ikebukuro, Toshima ward, Tokyo
Phone: 03-5985-4252
~~~~~~~INTERIOR DECORATIVE CONSTRUCTION CONTRACTOR~~~~~~~