Painting in order to express difference of special preference at restaurants 
Hello, everyone! This is Kikuchi Souken Company Limited website.
We are doing construction work in charge of 【Interior decorative finishing work】generally【Recovery and restoration work】 based at Ikebukuro, Toshima ward, Tokyo, in all over Kanto area, for you.
Do you eat out recently?
A few years ago, this sort of topic might not be supposed to pay attention very often. However, probably it seems that due to repeated requests from the government, frequency of your eating out may go down.
Especially, it seems that there may be a lot of restaurants which supply and serve alcohol drinks are repeatedly requested to operate under reduced business time or temporary closing from the government.
It is often considered these days about state of communication.  However, we think that many of you may use coffee shop as a place for light hearted chatting.
Incidentally, today, we will go on explaining construction work pictures on the way at a coffee shop planning soon to be opened.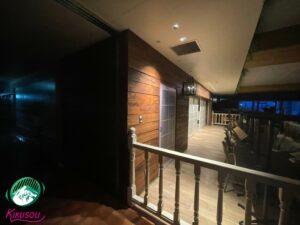 If you understand where it is at a glance of the above picture, it seems that you may regularly use coffee shop, doesn't it?
Back in the days, this coffee shop had image of rather bright southern country in its interior. However, a new coffee shop this time is done ageing painting for adult customers, where adults can be relaxed at its atmosphere.
As for the shop interior, as commonly referred to, the image of Japanese Taisho era romance, there is a distinctive feeling of calm and quiet lighting.
In order to make a different atmosphere from the former coffee shop, the following pictures are appearances of ageing painting on the way.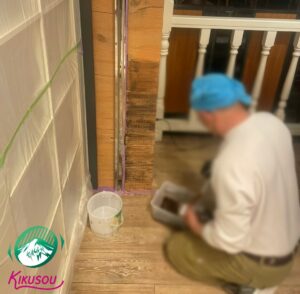 Ageing means a painting method changing to pretend new goods to be aged ones.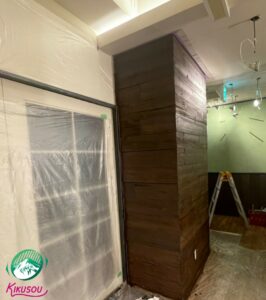 As we hear that this coffee shop is also particular in cups and saucers, the shop is collecting cups from all over the world and serves coffee for prior visual enjoyment before having coffee whose appearances are also beautiful, so the cups are worth paying attention.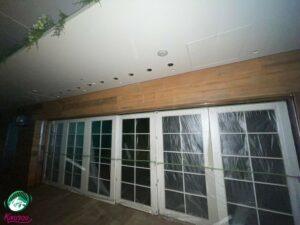 This construction work is a renewal reincarnation work for a new coffee shop, remaining what can be recycled as much as possible, as to formerly existing coffee shop.
From price quotation to construction finishing work completion, our company is directly managing and doing actual construction work by ourselves, So we are supplying 「more reasonable and low at price, with high quality and good products」 to you.
Please feel free to compare our quotation price with other plural offer prices.
We welcome your comparing our price quotation with others.
「Which construction company should I ask for work? How much is approximate work cost? and so on.」
Office renewal・shop or store redecorating・restoration work・reform work(interior decorative work) and so on.
Please feel free to give us your inquiry in the first place, as we are waiting for your contact to us.
Please also feel free to click ''following is nice♡!''
~~~~~~~~~~~~~~~~~~~~~Ikebukuro~~~~~~~~~~~~~~~~~~~~~
★If you look for interior finishing company, ask for Kikuchi Souken Company Limited.★
★If you also look for office restoration work in Tokyo, ask Kikuchi Souken Company Ltd.★
Our address: 〒171-0014 4th floor, Musashiya No.3 Building, 62-10, 2-chome, Ikebukuro, Toshima, Tokyo
Phone: 03-5985-4252
~~~~~~~~~~~~~~~~INTERIOR FINISHING COMPANY~~~~~~~~~~~~~~~~