Construction work site(Outside operation work)(2) 
Hello, everyone! This is Kikuchi Souken Company Limited website.
We are doing construction work of 『Restoration work』『Interior decorative finishing work』 mainly at 「Ikebukuro」 area, Toshima ward, Tokyo, the midpoint, also in all over
In Kanto area, rainy season just started, didn't it?
Today, we are continuing our last time explanation at our customer, K factory construction work site.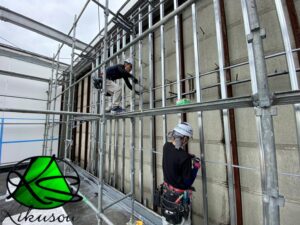 After finishing LGS(=light gauge steel) operation work around outside roof top machine room, we are going on sticking work of calcium silicate board.
In the first place, in combination with LGS, we process operation work of calcium silicate board.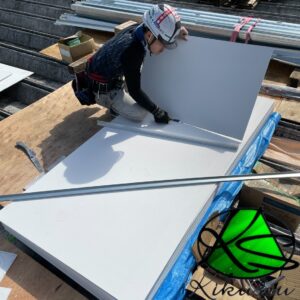 While processing operation work, we go on sticking on calcium silicate board.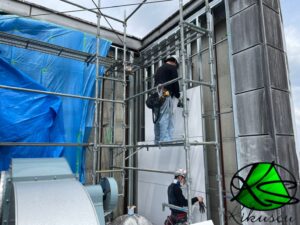 We stick on waterproof seal on joint area.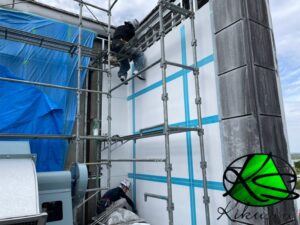 In order to open joint gap, two of our workers drive bis in for fixing with holding calcium silicate board.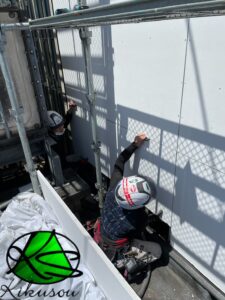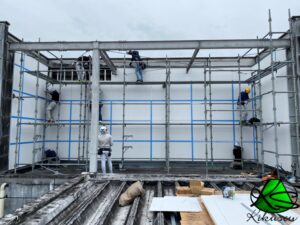 After sticking on calcium silicate board to a certain degree, we also do operation work of embedding joint at the same time.
Embedding operation work is being done neatly.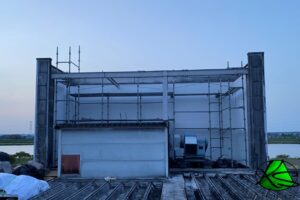 After finishing the work, finally, we clean up stepping areas, then pass the site on to the customer. It is the end of our work.
That is all for our explanation.
We also welcome your visiting to our website again next time.
Asking for your follow up of our Instagram, Twitter, and Facebook.
From price quotation to construction finishing, our company is directly managing and doing construction work by ourselves, omitting needles margin in-between.  So we are thinking of supplying 「more reasonable and better products and service」 to you at your cost cutting price.
As we are confident, we welcome your comparing our price quotation with others.
Moving of your office, housing apartment work, restoration work, renovation.
「Which construction company should I ask for work?」
「As there are too many questions, what should I ask?」
「How much is approximate cost?」
Besides above also, if you are in trouble,
please give us your inquiry in the first place, light heartedly.
If you are also in urgent request, we are really waiting for your contact.
~~~~~~~~~~~~~~~~~~~~~Ikebukuro~~~~~~~~~~~~~~~~~~~~~
★If you look for interior finishing company, ask for Kikuchi Souken Company Limited.★
★If you also look for office restoration work in Tokyo, ask Kikuchi Souken Company Ltd.★
Our address: 〒171-0014 4th floor, Musashiya No.3 Building, 62-10, 2-chome, Ikebukuro, Toshima, Tokyo
Phone: 03-5985-4252
~~~~~~~~~~~~~~~~INTERIOR FINISHING COMPANY~~~~~~~~~~~~~~~~