Construction work example 「MIRAIYA bookstore」
Hello, everyone! This is Kikuchi Souken Company Limited website.
We are doing construction work in charge of 【Interior decorative finishing work】【Restoration work】 based at Ikebukuro, Toshima ward, Tokyo, in all over Kanto area, for you.
Today, we are explaining a tenant construction work example.
We executed a construction work at a site of bookstore managed by MIRAIYA bookstore at Makuhari Branch store 「MIRAIYA Bookmark lounge」.
A lounge space of 「MIRAIYA Bookmark lounge」managed and operated by MIRAIYA bookstore was developed as a concept of 「The space is for reading, office work, or studying. The usage is up to you. A favorite space for those who care for own time.」It was born as a lounge space to provide new value of experience.
Please also be sure to visit relative website(Sorry, the website is only in Japanese.
Construction work details which our company executed this time for MIRAIYA Bookstore are as follows:
LGS(=light gauge steel) assembling and mounting work, board finishing work, and other relative construction work
LGS assembling and mounting work means, a kind of work by using material called light gauge steel framework, mounting grid situation and fixing, and making bedding framework for wall or ceiling. It is not usually directly visible. However, as it takes on bedding of board work, the role is very important. As the work excels in both of cost・disaster prevention phase, LGS framework is now used for a lot of buildings.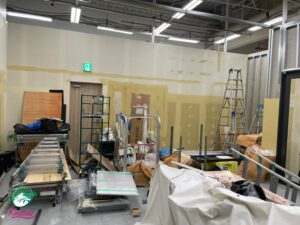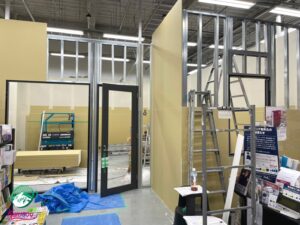 We go on mounting partition bedding from vacant situation by  LGS framework.
After that, we execute operation work of sticking board or so.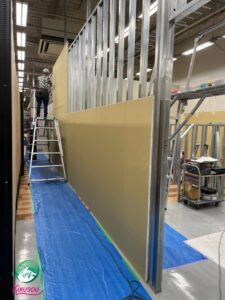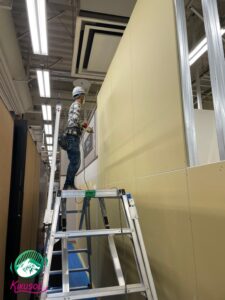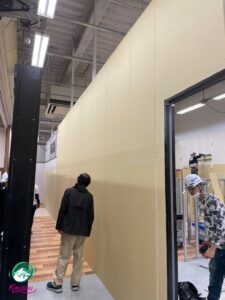 As it was a work at high place, it was sticking board operation work using scaffold ladder.
Board finishing work is a kind of operation work executing board finishing by driving in each kind of board using bis according to its usage, sticking staple, and sticking adhesive, on steel or wooden bedding at wall or ceiling.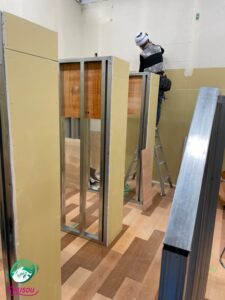 We go on executing construction work of single room.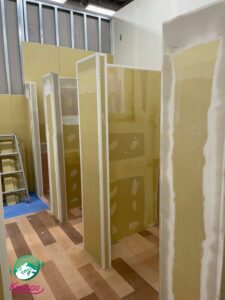 One-bo and single room space were made halfway through.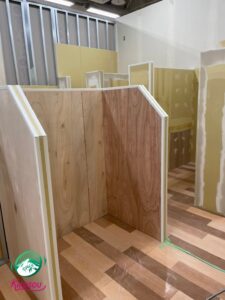 We are executing construction work of single room space by sticking wooden board.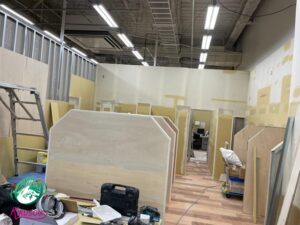 The above picture is on the way of executing construction work. However, as it is already finished construction and the bookstore is opened, please be sure to come and visit the MIRAIYA bookstore.
Then, this is the summary of construction work details which our company executed this time.
As it is a tenant in the building, we executed construction work midnight. The construction work period is about a week.
We executed LGS assembling and mounting work, board work, and other relative construction work.
If you should have trouble on interior decorative construction work, please be sure to consult with us light heartedly.
We will solve your various troubles such as construction work time, period, and expense or so.
That is all for our explanation today.
From price quotation to construction finishing work completion, our company is directly managing and doing actual construction work by ourselves, So we are supplying 「more reasonable and low at price, with high quality and good products」 to you.
Please feel free to compare our quotation price with other plural offer prices.
We welcome your comparing our price quotation with others.
「Which construction company should I ask for work? How much is approximate work cost? and so on.」
Office renewal・shop or store redecorating・restoration work・reform work(interior decorative work) and so on.
Please feel free to give us your inquiry in the first place, as we are waiting for your contact to us.
Please also feel free to click ''following is nice♡!''
~~~~~~~~~~~~~~~~~~~~~Ikebukuro~~~~~~~~~~~~~~~~~~~~~
★If you look for interior finishing company, ask for Kikuchi Souken Company Limited.★
★If you also look for office restoration work in Tokyo, ask Kikuchi Souken Company Ltd.★
Our address: 〒171-0014 4th floor, Musashiya No.3 Building, 62-10, 2-chome, Ikebukuro, Toshima, Tokyo
Phone: 03-5985-4252
~~~~~~~~~~~~~~~~INTERIOR FINISHING COMPANY~~~~~~~~~~~~~~~~